Do you have a deck? Are you considering building one? Do you have one in need of repair? There are some things you need to consider if any of these apply to you. We'll take them one at a time.
First, let's talk about the "good" where decks are concerned. A deck is a great way to enhance your enjoyment of your home (or even an office). Having a place that you can enjoy the outdoors without getting all of the outdoors on your shoes — and standing or sitting in an elevated location where you can enjoy your property or the views afforded by it — is a source of great satisfaction for many property owners. Decks are a great way to make efficient use of space (by affording storage beneath), provide a level seating and outdoor area despite changes in elevation, and expand the usable "civilized" portion of your property compared to the lawn (or whatever environs surround your structure).
Next, let's talk — out of order — about the ugly: A deck that is in disrepair, or a deck that falls into disrepair too quickly, is a quick route to dissatisfaction with your property and its presentation. A poorly built, sagging, or discolored deck will reflect poorly on your home or business. Depending on how it's built, the deck might even present a safety hazard if people start stepping through its sagging surface. Even a structurally sound deck that discolors unevenly can make a nice building or home look cheap and unpleasant. You cannot, therefore, afford to let your deck look bad. Evaluating whether a deck should be repaired is pretty straightforward, but to get the most useful life out of a deck in the first place, you should consider the "bad" ahead of time.
By "bad," I mean the cons of each material you might choose. For example, many decks are made of wood, frequently pressure-treated yellow pine wood. The problem with wood is that it can stain or crack depending on how it has been finished and/or treated. The type of wood makes a difference, too. If you go with an exotic wood, the cost can be as great as some other materials. Yes, it's true that exotic woods such as Ipe, cedar, redwood, and various others can be expensive. These add a warmth to your your deck, however, that is unmatched by composites. The downside is the maintenance. You'll want to plan on having the deck finished when it is new. Thereafter, you'll have to seal it every couple of years.
Now let's talk about composite materials. In today's market, there are quite a few brands. Composites come in multiple colors and textures, so you have many choices. The primary drawback is the higher cost. I've found that most homeowners are willing to spend more for these quality materials when they realize there is very little (or no) maintenance. You sweep the composite clean and give it a light wash from time to time… and that's it.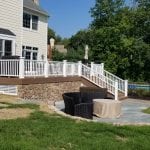 What about railings? Each deck component manufacturer has its own style of railings. Some of the options include white, black, square balusters, or round balusters. Some of these are composite type materials and some are painted aluminum pipe. There are even stainless steel cable types. These can be costly, but they again have the advantage of being largely free of maintenance.
Whatever you choose, consider the material costs and the durability of the deck as well as how the look will complement your home. You want to make sure that your deck enhances your home's value, rather than detracting from it. Choose wisely and do some research ahead of time. Your contractor — like me! — can help you decide. If you take all this into consideration, you can build a deck (or repair an existing deck) that makes you happy and reflects well on your structure.
While we're on the subject, take a look at these deck pictures. One is a large that received a makeover. We saved a lot compared to building from scratch by using the existing framing.
The next picture is a cedar deck on which we used galvanized goat fencing for railings, combining these with cedar posts and trim. There are still quite a few purists out there who insist on wood. I have been a carpenter for most of my life, so if you like wood and don't mind the drawbacks that come with it, I'm happy to help you.
Whatever you choose, make sure your contractor is qualified to do the work and has a PA license. Insurance is another big factor. Your contractor must have adequate liability insurance. If he works by himself, he's not required to have "workman's comp" by Pennsylvania law, but as soon as he has a helper or helpers on the job, he needs this insurance in place to cover employees.
Pennsylvania law also requires that your contractor provide you with an adequate contract. This must include the language specified in the Consumer Protection Act. To see this for yourself, take a look at the PA Attorney General's website. It will not only help you make sure your contractor is on the level but will also help you understand contract language before you sign.